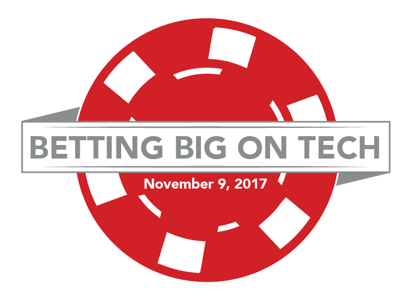 Betting Big On Tech
Thank you to our sponsors and attendees for being part of such a wonderful event! We happily made a $20,000 donation to CodeVa.
Stay tuned for details on our 2018 fundraiser coming soon!
---
---
Join us for a night of food, drinks, casino games and prizes as we Bet Big on Tech at a Charity Casino Night hosted by Solvaria, with all proceeds supporting CodeVa
Thursday, November 9, 2017 | 6pm - 9pm
The Hippodrome Theater
528 N 2nd St, Richmond, VA 23219


Here's "The Deal"
Partnering with our friends at Big Top Entertainment, the Hippodrome will be transformed into a casino with blackjack, craps and roulette. Try your luck on the tables, or play it safe and enjoy food and drinks and good company. Whether you end up with one chip or 100, you'll have the chance to win prizes from William Jeffrey's Jewelers, Richmond Country Club and more.

---
Our Mission
In celebration of its 20th year in business, Solvaria is calling upon its fellow members of Virginia's technology community to give back to the future of our industry. Our goal is to raise $1,000 for each year we've been in business in order to make a $20,000 donation to CodeVa. CodeVa is a nonprofit organization that, through advocacy, teacher training, and direct student programs, partners with schools, parents, and communities to bring equitable computer science education to all of Virginia's students.
We hope you'll join us on November 9, 2017 to Bet Big on Technology at a charity casino night, hosted by Solvaria, with all proceeds and sponsorships going to CodeVa.

---
Sponsors
It's up to us to support the future leaders in the technology industry, and these are the companies helping to make that happen.